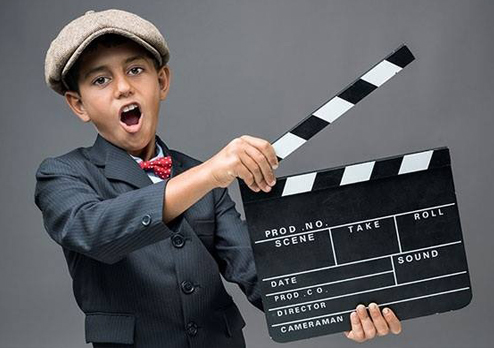 Recently I hung out with the 7-year old daughter of friends of mine. Her parents were there, but she was the star of the show. I told her that I was seven once for a whole year. She thought that was the funniest line. Even though this young person has only been on earth for 84 months, her soul must be a thousand years old. She was…
Witty? Yes; Kind? Yes; Good listener? Yes; Eye contact? Yes; Adventurous? Yes; Fearless? Yes; Astute? Yes; Intelligent? Yes; Engaging? Yes; Believable? Yes.
She possesses all of the qualities of a Superstar. She can play any role life presents. She may be the most successful 7-year old in the world. I hope her future will never be jaded. Her parents are awesome. I trust they will guide her well. I believe they will.
What about you? Can you play any role? What if I was a Bollywood Producer and the Director? Can you "Role-play" with me for a few minutes? Let us pretend that…
I am filming a new movie. I need someone to play the lead. If chosen for the part, you will be under contract for the next 90 days. Acting is not always easy. There will be sacrifice. You will have to follow direction. You may even have to stretch outside of your comfort zone. There is a script. There will be other actors. There is a storyline. There are multiple sets. There are costume and wardrobe requirements. And filming will be in different locations. Oh… I forgot to mention, that I am paying big money for the lead role. Interested? I thought so! "Cash is King," is it not?
You will star in the "Success Life Creation" Brand – a new production entitled, "The Most Successful Person in the World." Filming begins soon.
Are YOU ready for the challenge?
Here is the beginning of the movie.
Act 1 – Scene 1:
You are who you are, right now. You have your name. You have your money. You have your friends. You have your vocation and career. You have your current relationships. You have your current life.
You are walking outside near your home. A bright light appears in the sky. You are immediately drawn to it. Look up stunned. In fact, you are mesmerized by it. You have no clue what it is. You do not feel threatened.
Suddenly a voice penetrates your will and says, "I am the most successful person in the world." The light begins to form around you like a spotlight. The voice, although outwardly silent, is loud and commanding in your mind. You repeat it to yourself. "I am the most successful person in the world." Say it as if it is so.
The light shines on you for 90-seconds. It is bright. It is intense. It swiftly turns off as quickly as it appeared. However, the voice remains. This powerful, intoxicating voice then becomes your own. You repeat it to yourself over and over. Say it more convincing each time. Stunned… you walk into your home with a strange feeling of power. Hold your chin up. You have a sense that nothing can go wrong. "I am the most successful person in the world."
Act 1 – Scene 2
The next morning you awake energized by jumping out of bed. Immediately you move to the mirror. Look very positive. As if in a trance you repeat "I am the most successful person in the World."
Suddenly an uplifting music begins to play. Add your own personal soundtrack here. Today you see the world from a totally different angle. Nothing appears the same. Negative words and deeds from others in your life are more muted. They do not bother you. No one can steal your energy. You do not judge. But you do see the negatives for what they are. You are no longer a victim.
Swiftly, you are drawn to your computer. Without thinking you log in to a private and exclusive "Champion's Club" account. With a renewed sense of urgency, you inspect your Primary Life Arena (the part of your life that you spend the most time and energy; typically your job or career) and begin to re-assess your vision and goals. Edit them now. Change them. Delete them. Make them real. Own them.
Once your vision and goals are adjusted, an invisible coat of positivity blankets you. You take on your vision as if you are already in possession of it.
Someone in the room interrupts you. "How are you?" they ask. You look them in the eye with a feeling that says, "I am the most successful person in the world." Then you proclaim, "I am awesome!" Say this line with conviction and total belief."
Fade to black.
End of Act 1
This is the Director of Success Life Creation once again. As the Director of my imaginary and major success films, I have helped and coached people leave their comfort zone and become the leading man or woman in their successful life story. Actually, a large number of them!
Are you ready to act the part? Are you ready to reinvent (if necessary) yourself? Are you prepared to perform at your highest level?
Would you like to be one of them? Someone who wants to be coached in that role, right now? Would you like to lead your company in sales? Would you like to re-ignite your "significant other" relationship? How about simplifying and balancing your life, as you lead your company to record profits?
Are you ready to star in The Most Successful Person in the World movie? If yes, then you are on your way to turning fantasy into reality.
If you need assistance in any of the arenas of your life, please let me know.